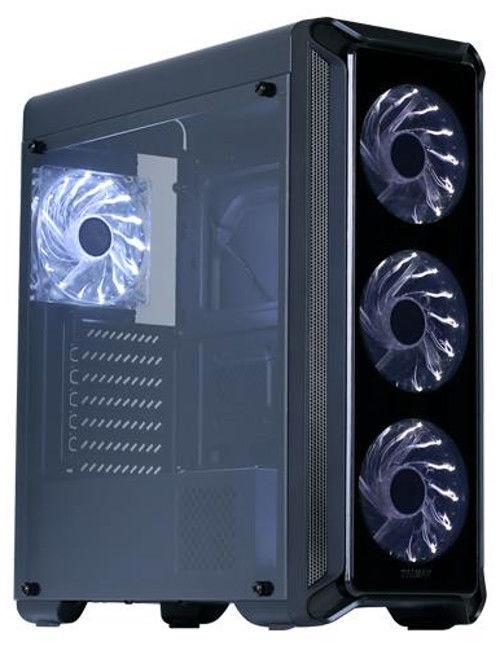 I3 MIDI-TOWER CASE - BLACK WINDOW
The i3 series of cases from Zalman represents, as Intel's namesake CPU series, a robust addition to the entry-level world of quality PC cases. A large side window, PSU shroud, and four pre-installed fans with LED lighting make up some of the defining features of the i3 series. Additionally, the Midi-Tower offers plenty of space for high-performance graphics cards, installation options available include dual-rad water cooling and the case is also designed to assist with concealing unsightly cabling. The black exterior comes with a dark tinted acrylic glass side panel that accentuates the user's choice of lighting.
THE ZALMAN I3 MIDI-TOWER AT A GLANCE:
· Stylish, black case from Zalman with black mesh front
· Tinted acrylic glass side panel
· Space for 240 mm radiator
· Four pre-installed fans with white LED lighting
· CPU coolers up to 175 mm in height are compatible
ZALMAN I3: MIDI-TOWER FOR WELL COOLED GAMING HARDWARE
Three fans with white LED lighting positively beam through the black mesh front of the Zalman i3, a sign of things to come when you take into account the middling size of the case and realise that it can hold up to six 120 mm fans: three in the front, two in the roof and one in the rear, above the PCI slots. The two slots in the roof aside, Zalman equips the i3 with four 120 mm fans illuminated in white.

The I/O panel includes integrated fan controls making the case perfect for keeping control over airflow, and it supports controlling up to six fans. The front of the case can, as an alternative to the pre-installed fans, support a 240 mm radiator. CPU coolers up to a height of 175 mm may be installed. The Zalman i3 is designed for supporting powerful, overclocking-ready ATX-format motherboards a total of seven PCI slots in the back of the case. Powerful graphics cards can be up to 360 mm long and the pre-installed fans will help make sure they are kept cool.
DESIGN, FANS AND CONNECTIVITY
The Zalman i3 is matte black on the outside and inside. The tinted, shiny acrylic glass side makes for a pleasant contrast to the matte black of the rest of the case. The four pre-installed, glowing white LED fans only add to the overall effect. These can be controlled via the integrated I/O panel that uses buttons for increasing or reducing fan speeds. A total of up to six fans are supported.

Additionally, the I/O panel comes with the obligatory controls we take for granted, including jacks for audio out and microphone support. Two USB 2.0 ports and a USB 3.0 port (Type A) enable the quick and convenient insertion of USB sticks or other peripherals, without having to scrabble around beneath your desk beforehand.

Behind the black PSU shroud, users can install PSUs up 180 mm long: a hard drive cage is also present and includes two removable sleds on each of which you can install a 3.5"- or 2.5" hard drive or SSD. These are discrete and hidden away from view. Two further 2.5" drives are located in front of the motherboard tray, between the motherboard and front fans. A fifth 2.5" drive can be installed to the rear of the motherboard tray, below the CPU backplate cut-out.

Technical Details:
· Dimensions: 204 x 479 x 445 mm (W x H x D)
· Material: Steel, acrylic glass, plastic
· Weight: approx. 4.7 kg
· Colour: Black
· Format: ATX, Micro-ATX, Mini-ITX
· Fans:
1x 120 mm (Rear)
3x 120 mm(Front)
2x 120 mm (Top)
· Pre-installed:
1x 120 mm (Rear, white LED lighting)
3x 120 mm (Front, white LED lighting)
· Radiator Mountings:
1x max. 120 / 240 mm (front)
· Drive Bays:
2x 2.5/3.5" (internal)
3x 2.5" (internal)
· PSU (optional): ATX
· Expansion Slots: 7
· I/O Panel:
1x USB 3.0
2x USB 2.0
2x Audio
· Max GPU length: 360 mm
· Max CPU cooler height: 175 mm
· Max PSU length: 180 mm